We all know that death is an extremely emotional aspect and process that our loved ones and friends will face at a certain time. It is inevitable, and we all experience it one way or another. For the first time in my life, I experienced the emotional aspect of someone's loss with my grandfather's death. My grandfather had a Will, and had all his asset/property documents in order at the time of his death. However, he did not believe in preparing a set of healthcare documents for him; because, he thought that those decisions should be taken care by the family.
Seeing my grandfather sick and confined to a bed was an extremely emotional experience for me. However, having discussions with the family as to whether my grandfather should be fed or not, what types of food and what times he should be fed, and the vitamins that he should be given, was the hardest part of it all. It was by far the most difficult aspect of my grandfather's death.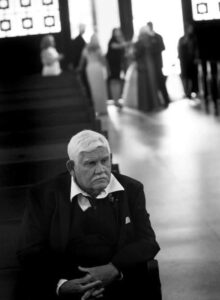 My grandfather was extremely loved and appreciated by all his family and friends. I am sure that every single person involved during this process, wanted only the best for him at that moment. But, the difficulty was that WE ALL had different opinions and ideas about what was that best thing for him. So, we found ourselves crying for several days/weeks, making decisions we thought were the best decisions for him, fighting over each other's opinions, screaming and leaving the hospital room upset and heartbroken at the same time.
To be totally honest, the worst part was experienced by my grandmother. Who had to listen why she should do this or that, or why that other person is wrong or right. At moments like these, humans, we don't process emotions properly, and what we (my family) overlooked was that my grandmother had just lost the love of her life, her life partner for 65 years of marriage. We were all suffering, but she was suffering the most, and on top of it, she had to listen to all of our crying, arguing, seeing her adult children fight over the feeding procedures, seeing her grandkids fight and suffer with their parents over who should be talking and making decisions. At the end, all my grandmother wanted was for all the family to be united as a single unit, bound by love, memories, and faith, as we saw my grandfather pass away.
Knowing what I now know; I look back to that experience, and I reflect upon the issues, confrontation, arguments, sadness, and the frustration that we all experienced. All of this could have been avoided and resolved if my grandfather had a healthcare directive in place. This would had allowed us to focus on the essential elements of the process of losing a loved one, which was attending the needs of my grandmother, making sure she felt safe and loved; and ensuring my grandfather's last moments with his family were filled with love, faith, and unity among his family members.
That is why it is so important to have a healthcare directive in place. This is one of the estate planning documents that gets the most overlooked, because we don't understand its value and/or its need. As humans, we are afraid of death, don't want to talk about it. Hence, we avoid any conversations and discussion on this subject, which is the one thing in life that is certain. For that reason, we should be willing and totally open to the idea of easing the burden on our family when that time comes. Discussing our wishes with loved ones, and preparing these documents, ensure that our decisions regarding our future medical care will reflect our own values and desires. Visit our Healthcare directive section in our website for more info.